De Lois Powell
Math Fellow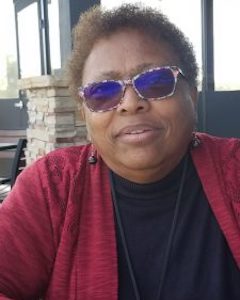 Email:
DeLois_Powell@dpsk12.net
Department(s):
Math Fellows
I am De Lois Mitchell Powell, the oldest of 6 children fathered by an Elementary School Math teacher. I have over 30 years of experience providing services to various Universities, Community Colleges, Private and Public Middle and High Schools, Government Agencies, and nonprofits.
I have been a part of the Math Fellows Program at Florida Pitt Waller ECE-8 school since being hired by Shaun Stuckley in August 2016. I will begin my 6th year at FPW in the role of Lead Fellow. I look forward, with our strong team, to supporting our students, our Math Teachers, and our Coordinator, Ms. Tisher, through another successful year.
In 2022, I will begin my 6th year as a member of the Rocky Mountain Wa Shonaji Quilt Guild. Over the years, I began introducing my students in grades 6-8 to the exciting world of "quilting" through the making of pin cushions; assisting in quilt design; painting on fabric blocks; and appliques of hand tracings on fabrics. Their community outreach quilt effort was proudly displayed in the Florida Pitt Waller ECE-8 school office as well as the Aurora Municipal Building during a Martin Luther King, Jr. holiday celebration.
I have been blessed with three children, a son and two daughters. My son teaches Math in High School and one daughter teaches Spanish in High School. The youngest daughter has a degree in Early Childhood Education and has been assisting her 5 children with on-line learning during the Pandemic.
My oldest grandchild just completed her first year of studies in Marine Biology at Gordon College, Mass. and my second oldest grandchild will enter Howard University, Washington, DC in August 2021 where she plans to study Journalism.